News
On a 100-county tour: Senate hopeful stumps in area counties
The Daily Advance: On a 100-county tour: Senate hopeful stumps in area counties
Paul Nielson
July 17th, 2021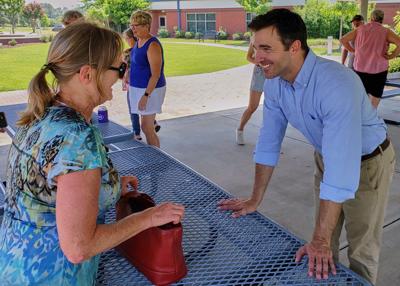 BARCO — Democratic U.S. Senate candidate state Sen. Jeff Jackson brought his campaign to the region this weekend as part of an effort to visit all 100 counties in the state in 100 days.
Jackson, who is from Mecklenburg County, held an outdoor town hall at the Currituck Community Park in Barco Friday afternoon before holding a similar event in Camden Friday evening.
Jackson will hold a town hall at Perquimans County Park in Hertford Saturday at noon and at Dog Corner Park in Elizabeth City at 4 p.m. Saturday. He also has a town hall scheduled for Colonial Waterfront Park in Edenton on Sunday at 1:30 p.m.
Jackson is one of several Democrats running in next March's primary and the stop in Currituck was the campaign's 46th visit to a different county since the candidate launched the tour May 22.
Jackson, who is serving his fourth term in the state Senate, took questions from over a dozen voters for an hour. He said next year's Senate race will be a key campaign for both North Carolina and the country. He also said the kind of campaign he's running is unique in U.S. Senate races.
"North Carolina is a top race, it's going to be a national level race," Jackson said. "We are doing town halls again. These things are almost extinct at the level of a really competitive U.S. Senate race. This is a true 100 county campaign and it hasn't been done in a long time."
Jackson even noted that "a very nice gentleman" with the Republican Party was in attendance filming his every word.
"They will try to find a 10-second clip to attack me with," Jackson said. "They follow me everywhere, and that is fine because that is the name of the game.''
Jackson said visiting all 100 counties is the best way to get direct access to the state's voters and hear their concerns.
"Yadkin (County) had a hospital that closed a few years ago and we talked about what it means for a rural hospital to go away," Jackson said. "We have 19 or 20 rural hospitals that are on the brink. We were in Transylvania County and it turns out they have world-class early childhood education. I wouldn't have known all that if I hadn't gone there."
Jackson told the voters in Barco Friday that he and his wife, Marisa, have three kids, two car payments and a mortgage. Both also work full-time.
"I think it would be a great thing if our U.S. Senate had more people with three kids, two car payments and a mortgage," Jackson said.
Jackson is an attorney in Charlotte and served as a prosecutor in nearby Gaston County before being elected to the state Senate. Jackson was also deployed to Afghanistan for a year during his stint in the U.S. Army and he still serves in the N.C. National Guard.
Jackson said voting rights, gerrymandering, climate change, concerns about the health of the democracy, health care and marijuana legalization are just a few of the questions he gets at most town halls.
If elected, Jackson said one of the first bills he would file would be for a new Voting Rights Act.
"We need to restore the full rights of the original Voting Rights Act," Jackson said.
The Democrat-led Senate is seeing its efforts to pass new voting rights legislation stymied by Republican opposition and hesitancy within its own party about lifting the filibuster to allow a simple 51-vote party-line majority vote on the issue.
Jackson also addressed marijuana legalization. He said 30,000 people in the state are criminally charged with small amounts of marijuana possession every year. He praised a new Virginia law that legalizes the possession of less than an ounce of marijuana for persons 21 and older.
"Virginia just got a new cash crop that we put a farmer in North Carolina in prison for," Jackson said.